half-baked because, it seems, considering all the reserach i've already done, it still wasn't enough... and i didn't enjoy CDO to the fullest.

But twas a fun, fun time I had just the same!!!

Read on for stories and tips.

PALakbayan
Yes, you do pay less when you avail of such promos if you really want to fly PAL and check-in at NICE hotels. Regular fares to CDO is around P8k/ea (roundtrip), less 20% if you're a government employee (Air Philippines also offers the same discount, and you can get Mabuhay miles rewards if you fly with them too). But, Cebu Pacific and Air Philippines both offer cheaper rates (not considering Cebu pacific's latest P10+ offering). The couple we met in CDO flew Cebu Pacific for P10k for both of them, round trip.

PRYCE PLAZA HOTEL

Google accommodations at CDO, and Pryce Plaza Hotel is always top on the list. Located at Carmen Hill, it's supposedly the grandest CDO has to offer. The architecture was grand enough, but the hotel in itself left me wanting. It's lobby was so-so. It's food was so-so. Their hot chocolate required a lot of milk and sugar to taste good (it's native cocoa, i think, but tasted weird). They didn't provide the usual toothpaste, lotion and cotton buds along with the soap (Lux mini-bar) and the shampoo (Sunsilk).

But their staff were nice and friendly enough.

Since our accommodations were part of the PALakbayan package, we couldn't choose rooms. And I forgot to ask for a queen-sized or a double bed and we couldn't move the twins we were provided so hubby and I squeezed together in one bed for two nights.

Breakfast was also included in the package, as well as airport transfers. Now, I called Pryce days before to confirm our bookings and the inclusions (because I didn't want surprises) and were assured of them. Saturday, very early morning, we got our breakfast coupons. We handed these to the head waiter at Cafe Cagayan. Both front desk clerk and head waiter didn't say anything about limitations of our entitlement. So imagine the embarrassment I felt when, we already had heaps of food on our plate from the buffet table, we were told that we're basically just entitled to BREAD! (That's what continental breakfast for them means, and we were intending to enjoy the continental buffet)

Hay naku, I was hopping mad! JRA asked how much additional we'd have to pay to enjoy the food we've already taken, and it was another P150 ea. We ate our breakfast anyway, paid them P300... and I complained to the front desk.

I told them how rude it was to be told of that specification only then, when they had at least 3 occassions (heck, if you count in check-in time, that will be 4 times I could have been briefed!) to make us aware that our breakfast inclusion doesn't cover the buffet. It wasn't that we couldn't afford it (because obviously, we could, if we can avail of a P19,000+ package), it just would have been proper to brief guests beforehand... and not confront them at the buffet area. And no, I didn't care that the head waiter might have overlooked it, because like what I said, they had at least 3 occassions to explain things to me. Add to that the fact that we could have gone to the city proper for P99 breakfast-all-you-can offerings.

They apologized naman. And I wasn't a shouting wreck naman. And the next day, we enjoyed a Filipino breakfast hassle-free.

Other downsides of staying at the Pryce Plaza... is that it's not exactly in the city. Taxi fares cost us P60-150 (depending on traffic). Worse, when taxi drivers pick you up at Pryce, they automatically think you're rich (and we had the unfortunate experience of paying a driver P350 to get us to Malasag, but more on that later). Saturday, we were a little wizened already and walked to the road to wait for jeeps instead of getting fetched by a cab. To CDO Cathedral, it cost us P7 ea.

But Pryce is 10 minutes away from the airport. And yes, it's quiet there. And they do offer several cafes, restaurants (seafood grill, japanese). And again, the staff were fairly nice, friendly, accommodating. There were a lot of lost in translation moments though... what with some of the attendants speaking in thick Bisayan accents. The premises were also very clean. And you can have valuables stored in their safety deposit boxes at the front desk for free.

PBB

One reason why traffic was heavy when we were in CDo was because PBB was there to do mall tours and shows. They were staying in the same hotel too. So when JRA and I returned from dinner, fans were camped at the hotel lobby, waiting for their arrival. We figured to wait for the PBB too, and maybe get a picture of Uma, who Py weirdly likes.

Unfortunately, Uma didn't act friendly. And since I wasn't exactly a fawning fan, I didn't press the issue of a picture with him. JB strutted in his usual self-important way, made more ridiculous by the fact that people didn't notice him. After all, there was Sam who everybody, even the little girls all-giddy in the lobby, adores He looked real exhausted so yes, I didn't try taking his picture too. And these guys are all my height. Hanubez.

The girls all escaped to their rooms before any fan could get to them (my gawd, Cass was more morena than I am. And if she's not wearing sexy clothes, you really wouldn't notice her). Franzen, jayson, Rico and Bob were the friendliest ones, even doing interviews and mingling with theri fans and alalays. Rico and Bob were staying in the room across ours, and they managed to lock themselves out. Jayson's face is sooo kinis and poreless ha, and he smelled nice. But other than that, the most effect these celebrities did was cause traffic jams that cost hubby and I more cab money.

MALASAG GARDENS

One thing we thought we could do last Friday afternoon (after arriving at 2:00 PM) was visit Malasag Gardens. Since it was our first time in CDO and didn't really know how to get to anywhere, we got Pryce to get us a cab.

The driver, upon being informed that we want to go to this place, told us that they don't use taxi meter there and quoted us a price of P350 to go up the mountain where the gardens was located. We thought it was a rough, unfriendly terrain going up, so we agreed to the price. Who knew CDO roads are perfectly built? And though the drive to the gardens was uphill and winding, it wasn't exactly comparable to, say, going to Makiling's nursery. It was literally a walk in the park, the drive going there. Haayyy...

Anyway, Malasag Gardens is a project of DENR. It features plants, a deer sanctuary(where deers are free to roam, and are separated from you by a fence), some birds, ethnic houses and accommodations. Other information one might need:

ENTRANCE FEES (it's open till 10:00 PM:
Day - Adult - P30, Children - P20
Night - Adult - P50, Children - P30

ACCOMMODATIONS (air-con cottages)
lantaw - P1,500/night for 2 pax w/ brakfast
de luxe - P900/person w/ breakfast
standard - P750/night for 2 pax with breakfast

CAMPGROUND FEE
daytime - P1,000
nighttime - P2,500
Overnight camping - P80/pax
Fixing fee - P100/tent

Swimming Pool - adult - P50, children P40
Hanging Bridge - P10/pax

A not so updated lit can be found here complete with an un-updated map but helpful info just the same.

Anyway, JRA and I had great fun at the hanging bridge! We sweated like pigs eventhough it's just a miniature hanging bridge, and only some 6 feet above the ground (incomparable to the one you deal with when you join a canopy walk tour. There's something about unstable ground that really challenges a person.


The accommodations looked charming, and there are cultural poresentations going on at certain times around the area. You're free to enter the ethnic cottages so long as you remove your shoes.

We also saw a baby eagle there. Unfortunately, I got great pictures of the cage rather than the bird.

The resto there, with a view of Macajalar Bay serves great pansit bihon. But the best treat the gardens offered me was the ride back to civilization.

Since we were steeped going there, we didn't want anymore for Malasag to call a taxi for us (P250, just to call them), one that might require a similar fare like the one before. We asked for other options and we were told to just walk to the barangay road and then ride habal-habal. The walk was kinda long (some 20 mins?) but it was not without its rustic charm, what with the scenery and non-polluted air.

And then we got the surprise of our lives. Motorcycle drivers carrying some 2=4 passengers with them, going up and down the mountain. They're not tricycles ok? Just motorcycles! And without helmets and padded jackets and elbow guards on!

For P20 (P10 ea), it was one of the rides of my life!!! Up there with the topdeck ride in Sagada! Imagine going through winding roads down a mountain at breakneck speed at the back of a motorcycle! It was like riding a roller coaster and just floating on air! I was scared out of my wits but loved the wind on my face and the blur of everything we pass by. talk about exhilirating. I wasn't kidding when I said I wanted to just go up and down that mountain! I mean, esply if consider the P350 we paid the cab driver, I could have done that all day! :D

We went back to town riding a jeepney that cost us P7. So, for those who are going to Malasag, I suggest you just take a jeep going to CUGMAN, tell the driver to drop you off at Malasag, where habal-habal drivers are waiting to take you up at the gardens.

SHOPPING
Honestly, I hate going to far-flung provinces (point of reference, Manila) only to see myself in a mall. I hated being at Iloilo only to be fed at Robinson's, then the following day find myself at Robinson's again, this time in Bacolod. Even Cebu disappointed me with its many towering malls. Bless Davao for its vast spaces, I didn't mind their malls much. besides, we went to Samal that time.


So imagine my chagrin when the first thing that I saw after the aiport is a mall!

But since the Gardens trip took only some 2-3 hours, we had a lot of time on our hands and decided to tire ourselves outwatching a movie or looking at shops. The jeep we rode from Cugman brought us to Limketkai... and Gaisano Mall.

Dang it, we got robbed willingly by the sports shop selling rubber shoes at half-price. My hubby got a new Adidas pair... while I got this lovely Salomon pair (for those not in the know, Salomon is like Merrel, maker of mountaineering shoes and cross trainers, both are also dang expensive!)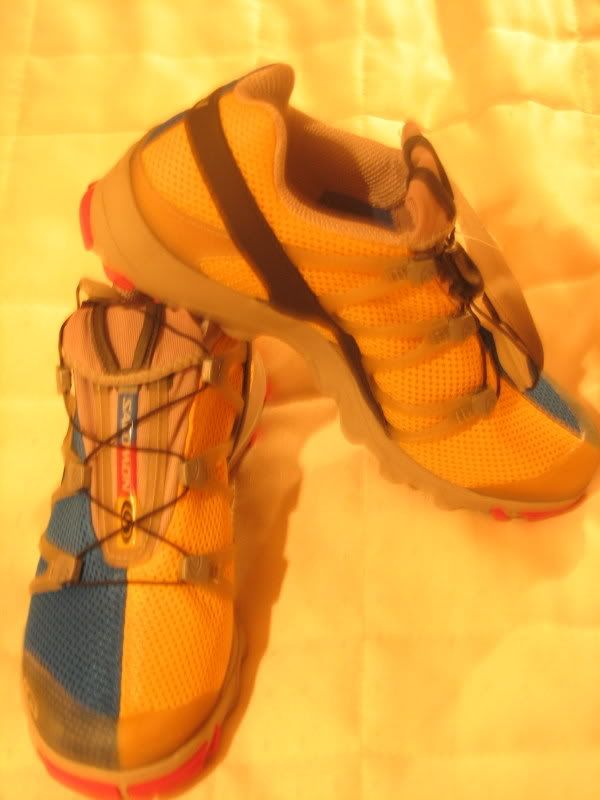 Although it meant less money for pasalubongs for our friends, we're happy with our buys. The shoes were real comfy and japorms and we were like crazy kids happy to strut around CDO wearing new shoes.
And heaven help me, am not a shoes girl. And i'd drop dead first before spending so much on a pair (my wedding shoes cost me P1k lang!), except when we're talking mountaineering talaga.
Haayyy.
BIGBY'S CAFE
I'm blaming Good Housekeeping and my failure to realize it early on. The reason why this cafe kept being reviewed and advertised and recommended isn't really because how great the food there is (although it wasn't bad naman), but because they offer continental fare that paying foreigners with gazillions of money will appreciate over the local fare (which is lechon manok, barbecued pork and puso).
Still, hubby enjoyed the steak but rates it as so-so. We enjoyed the curry chicken soup with fresh mint leaves.
And who knew you could eat Dory? (that regal tang fish in the Finding Nemo movie)
Anyway... if you're planning to feast at Bigby's anytime soon, here are some food prices so you can prepare (and no, I don't think they're super expensive naman, just not cheap)
Bermuda Salad P155
Racka Bye Baby P255
Roast Beef Down Under P159
Titanic Treat P525 (free if you can finish it with one other friend in 5 minutes)
Milkshakes P65 average (they have a mudslide shake offering)
After this, we shopped for some fresh milk and Coffee Crumble Ice cream to take back to the hotel.
WHITE WATER RAFTING
FYI, one of the conditions I posed before allowing myself to get pregnant with my hubby include white water rafting. That's why we chose CDO in the first place, he wanted to get the farthest thing out of the way agad. But yes, we're also giving ourselves a year to just enjoy each other.
Anyway, I had a blast. Cagayan River was clean, fresh, cold... it's view offerings were breathtaking. The children playing at its banks were all dark from the sun. Children also dared us to back out of jumping from the bridge.
Anyway, I decided to recount my
white water rafting memories here instead
since it belongs to the outdoors I love and miss.
My a$$ and thighs still hurt from hitting the water first both times I jumped into it. Plus, i'm in that menstrual cycle phase where am easily sore and bruised. Kept having falling dreams since Saturday (usually, I have them after a climb). Must be because I dealt with heights again.
We just had to sleep and rest after being tossed and turned by a river all morning. After that, we visisted CDO cathedral, offered lighted candles and prayers... and went to buy Vjandep Pastel (filled buns) at Tiano St. I'm just not sure if they're the same as Beard Papa's offerings though. Also bought two malongs at P150 ea (Mercado St. at the palengke, Moslem area).
Oh, and I recently discovered (a little late, perhaps?) thatthere are already disposable waterproof cams! Only, they cost P300+ for 27 shots. Developing at kameraworld is P7/pic plus P65 developing fee. If you're having the film converted to digital files, that's additional P150... so it's like P700+ expense.
PANAGATAN
One probably wrong assumption I have is that seafood is automatically abundant in provinces, esply port areas like CDO. But hubby and I were absolutely weirded out by the fact that for a 5-minute jeepney ride, you can count up to 15 lechon manok stores! There's just lechon manok everywhere! And the stores stand side by side and across each other!
And they're also big on pork barbecue and steaks.
And all I wanted was seafood!
P150 brought us to Opol, which is the same route you take going to Iligan and Maria Christina Falls. We dined at PANAGATAN. We had sashimi (malasugue, P130), fresh buko juice, seafood tinola, inihaw na kitong (in Bicol, they call this fish KETONG, it's like this polka-dotted fish that's real meaty and tasty, and can be steamed or fried, it's great lang talaga!), and baked imbao (clams? small ones). Yes, I alone ate the sashimi.
The resto is like one of those you see at Roxas Blvd (think Pantalan and Blue Bay) where most of the resto is supported by stilts over water. We were lulled by entertainers who were pretty good as they sang MYMP songs and other classics.
And yes, I alone consumed this:

Cooked guinataan-style
And mind you, i've eaten a lot of crabs but this gigantic one is one of the best...with meat in every crab shell... and real juicy!!! Even the shrimps at this place were real crunchy and sweet! Haayyy...
PASALUBONG
Pastels could be bought from Tiano St., their main factory. You can buy them at groceries inside malls but all they sell are yema-flavored (nothing wrong w/ them actually, not everyone would eat ube-filled, durian-filled buns anyway). A box of yema-flavored buns costs P99 (one dozen buns) at the Tiano store, assorted box costs P124.
CDO is also known for their ham. You can buy some at Osmeña St. (palengke area, near the sabungan) but don't bother since you can buy Oro Ham near the airport at almost the same price.
Pineapples from Bukindnon also abound. Roasted peanuts from Iligan is also a favorite treat.
PICS
View all the pics
HERE
.
*~*
why half-baked?
Because I didn't know Iligan's falls were just two hours away. And that we could have gone here more cheaply. And there were too many sights to see. And looking back, we weren't able to maximize our visit because we didn't get to do a lot of other things... like spend a night in Camiguin!
But I really hope to return there in the next 3 years, with my sister. I want her jumping off bridges too. I love my hubby and it's been fun spending time with him for a weekend... but there are just some places I really want my sister to see too.
I have yet to bring her to Bora though... esply since I wasn't able to fulfill my promise to be with her on her first plane ride (kasi syempre, their immigrant whatever got approved nga, and she flew with my parents instead).
*~*
There you go, that was how my weekend went. How did yours go?