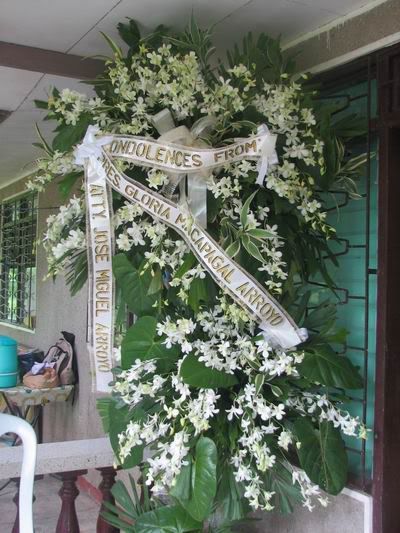 Because one of my Dad's cousins work in Malacañang, flowers and a Mass Card were sent for my uncle in GMA's name.

Anyway, there we were at the porch, cousins hanging out with aunts and nieces and nephews (who I made more hyper through chocolates), the night stormy and really cold last Saturday...

KC was jumping around and making us laugh with his antics. His Mom told us about how, when her own father died, KC asked his lola why people were paying to look at his lolo (referring to how people in the province would give some monetary aid after looking at the dead person).

Then he decided to read the ribbon on this particular flower arrangement.

"Gloria Makapal Arroyo"

We laughed.

He read the next. "Jose Mig-wel Arroyo... ay bakit Arroyo, diba dapat Camitan?"

We were confused.

He then asked us why both names had Arroyo. His lola (my aunt) told him to just ask Gloria.

He replies, "Sabagay, si Gloria na lang ang buhay eh."

Then his dad (my cousin) finally understood... he thought the "Jose Miguel" was our deceased uncle, that's why KC said it should have been Camitan.

*~*

Pyro celebrated his 3rd birthday with people who love him so much.

*~*

Nacho LIbre starring Jack Black was a pointless film but it was dang entertaining! Had so much fun watching it!