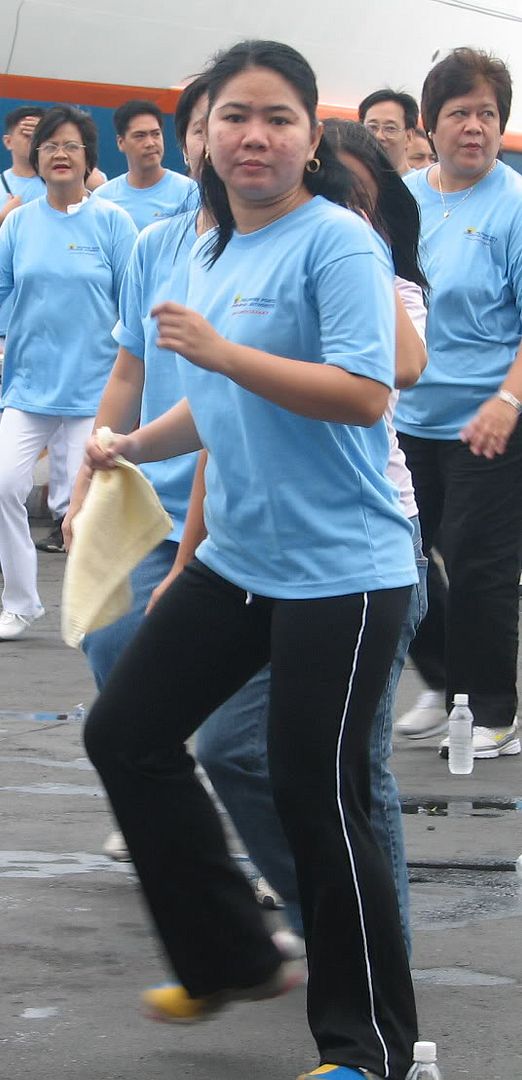 Actually, this picture is a lie because I spent most of the company-wide aerobics ekek taking pictures of the others with their sweaty, exhausted faces. Esply those of the bosses, sporting a grimace doing all the jumping and bending and moving about. My colleague just took my cam from me for awhile so she can also take pictures of me.

Mwehehe.

I really, really need to regularly exercise now, though. Sometimes, when am real bloated and all, am like a centimeter away already from sporting a camel toe wearing the office uniform. And none of my jeans fit anymore... and I made the mistake of buying a new pair when am really bloated, which turned out to be too big and unflattering for me on my regular days.

Shucks, the troubles weight gain is causing moi!

And it's really bad that since I'm not yet actually chubby, bordering on still slim enough and huge... most outfits don't skim me well so shopping has really become a pain!

Tuloy, i've taken to just donning a towel or going stark naked at home... all the time.

Hay.